Artificial Intelligence at our practice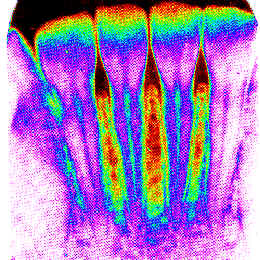 The integration of artificial intelligence (AI) into
our dental practice is revolutionizing oral health
diagnostics and patient engagement, as
cited in the 'Journal of Dental Sciences'.
Applying AI algorithms "to digital imaging
systems allow us to rapidly analyze X-rays,
detecting issues such as dental caries, bone
loss, and infections." Our patients also
benefit from AI-generated overlays that add color and quantification,
improving their understanding of their oral health." Additionally,
AI is transforming administrative processes through streamlining
scheduling, reminders, insurance claims, and payments.

Recently, scintillation crystal resolution in digital X-ray sensors has
supassed that of the resolution of X-ray film making it a suitable
alternative to using X-ray film. Also, computer speeds/memory
have gotten fast/large enough to support a realistic display of an X-ray
image on a computer monitor in as short as 3-4 seconds. We now offer
digital X-rays at our practice.

As well as the increased speed of image display and enhanced detail,
the advantages of digital X-rays are a 90% reduction of radiation
exposure, they do not require photochemical development (a plus for
our environment), and are easily stored on a computer for future
reference. Please click here for more information.
Read more
Send Comments [email protected] Thursday, November 23, 2023