Flossing and Brushing --OR--Brushing and Flossing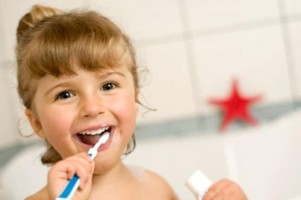 This month a question was raised
regarding which should be done FIRST; Flossing OR Brushing.

With the onslaught of new hygiene products
becoming commerically available almost daily,
many of us can become confused regarding the
"order of operations" for hygiene. In essence, our objective
for proper hygiene is to debride the teeth of plaque, food
particles and bacterial inhabitants thereby allowing us to better
access the surfaces of teeth for polishing and sealing. This is
accomplished by a gross removal of debris FIRST followed by a
finer polishing to flush away debris and to smoothen the tooth
surfaces. Ultimately, fluoride is applied to the tooth surface as
a final step to reduce decay producing ability of bacteria
and to remineralize teeth from acid attacks by food or bacterial
waste products.

So, the technical answer to the question is to FLOSS first then BRUSH
later.

A much better way of debriding teeth of gross debris is to use an oral
irrigater FIRST. It not only debrides the teeth, but actually goes further by
flushing debris away from the teeth/gums as well as physically
conditioning our gum tissue to stay healthy (see oral irrigation).
Read more
Send Comments [email protected] Sunday, January 05, 2020